Mines Game Deal or No Deal Blackjack Is Surrendering Always the Best Choice?
Great graphics and gameplay.
An average house edge of 0.38%.
A Surrender feature available for every hand
Deal or No Deal Blackjack is a very interesting game to play online, to say the least.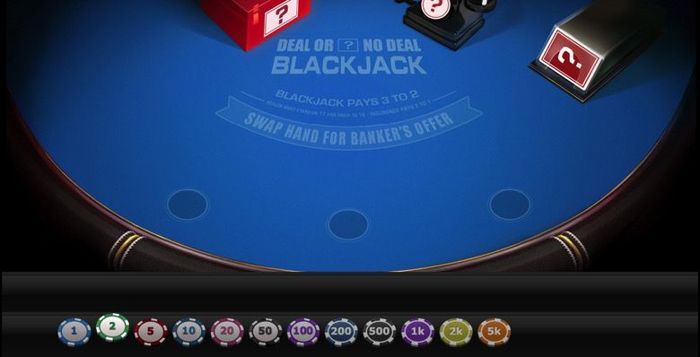 PLAY GAME
It was designed by Red Tiger Gaming and is different from other online Blackjack games in many regards. There are a lot of things we love about this game and we believe there are plenty of reasons to play it.
The most unique feature about Deal or No Deal blackjack is that the player can surrender any initial hand they are dealt.
But should you ever do it? We've played this game for hours trying to answer this question and we've come to some definite conclusions.
Before we get to the crux of the matter, let's first review the game and learn about its design, rules, and gameplay.
Deal or No Deal Blackjack
The design of the game is, of course, the first thing you notice when you launch it.
We were pleasantly surprised to see how realistic this game is. The colours and the movement of the cards on the table are spot on.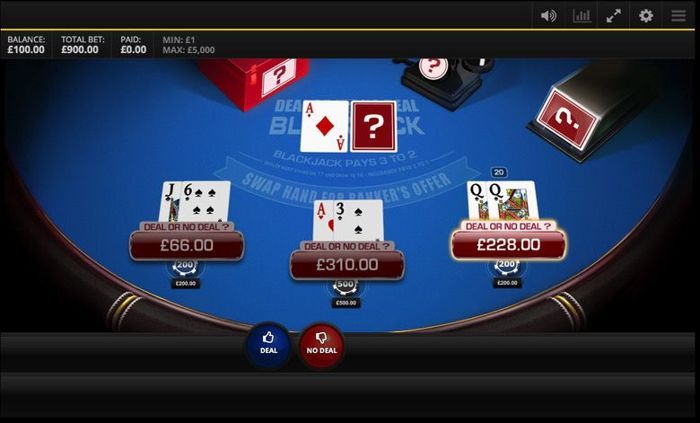 The colour of the table is either red or blue, which some players might dislike, but we think it accentuates the cards and chips nicely.
The dealer announces all cards and totals, much like in real Blackjack, and you can enjoy some soothing music in the background.
Deal or No Deal Game Rules
Red Tiger Gaming's Deal or No Deal Blackjack is played with some interesting rules.
Many of them are beneficial to the player, which keeps the house edge pretty low. However, there are also some that benefit the Casino — they have to make some money as well.
The main rules to keep in mind in this game are:
Five decks of cards are used.
The dealer stands on soft 17.
The dealer peeks for blackjack before the player plays his hand.
Blackjack wins pay 3:2.
You can buy insurance before the dealer checks for blackjack.
Cards are shuffled after each round.
Aces may be split only once, while all other pairs may be split up to three times.
Doubling down after splitting is allowed.
No draw to split aces is allowed.
In addition to all of these rules, the player will be offered a deal or no deal offer which gives them an option to surrender any initial hand. The player may surrender the round before the dealer peeks for blackjack.
How to Play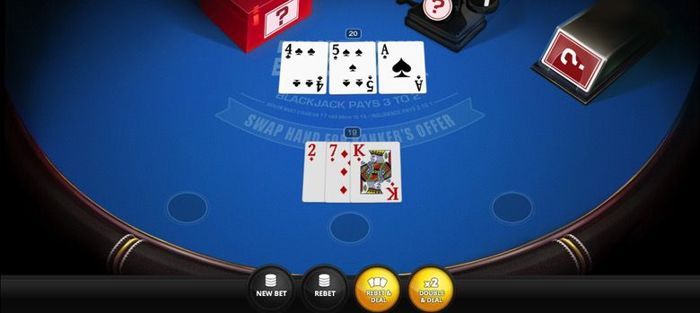 Deal or No Deal Blackjack is simple to play, but it has some quirks you need to pay attention to before you face off the dealer.
If you do that after, you'll lose.
First of all, you can play this game with up to three hands at a time, which makes the game fun and exciting.
Before the game begins, you need to place your bets. You can do this by clicking on a chip on the left and clicking on the position on the table where you want to play.
The minimum bet is £1 and the maximum is £5,000. After that, you will be served your two cards.
Before deciding how to play them, you will be given an option to surrender. The payout you receive will be clearly shown every time. If you decide not to accept the so-called "banker's offer," you can then decide whether you want to split, double down, hit, or stand.
After each round, you have four options available: new bet, rebet, rebet & deal, and double & deal.
The Payouts
The payout terms and the house edge in Deal or No Deal Blackjack are very good.
Blackjack wins pay 3:2, push situations pay even money, and insurance pays 2 to 1. So far so good.
However, we don't recommend taking the banker's offer, as the payouts are always lower than your odds on the original bet.
Surrendering makes sense if you are a card counter, but since the cards are shuffled after each round, it's impossible to count them.
This is a fantastic game with good odds if you play it without the surrender feature (even though it sometimes seems lucrative).
Final Thoughts
We have said a lot about this game already, so it's time to wrap up and tell you what the verdict is. After playing this game for several hours in total, we concluded that it is a great game to try out in online casinos.
It is fun to play, it pays 3:2 for Blackjack, and the house edge is pretty low. Therefore, we absolutely recommend it and encourage you to try it out and see if you like it as much as we do.