Online social casinos have seen rapid growth in recent years. Social casinos allow customers the chance to play all exciting casino games and video slots for free – and there's also a strong social element involved, letting you chat with other players and make friends online! On this page, we'll look at what social casinos are, how they work – and why you should consider joining one today.
Online Social Casinos
The Best Social Casinos
What Are Social Casinos?
Are Social Casinos Legal?
Social Casinos vs Real Money Casinos
Pros Of Social Casinos
Cons Of Social Casinos
Frequently Asked Questions
Online Social Casinos
Online social casinos carry a wide variety of benefits. They're widely used by players who're unable to legally gamble online, and there are rarely any rules or regulations surrounding social iGaming. Online social casinos are also well-suited to those who like playing casino games and video slots, but who don't want to risk their own money. In fact, social casinos aren't technically classified as casinos at all, since there's no option to play with real money.
Best Social Casinos
Social casinos offer a fun and exciting gaming experience for players who are seeking the thrill of gambling without risking real money. The best social casinos often feature a wide variety of popular casino games such as slots, blackjack, roulette, and more. The top sites will offer several games, with new releases hitting the shelves on a regular basis.
The best social casinos also offer strong interactive elements. For example, our favorite sites allow you to interact with friends, join tournaments, and collect rewards and bonuses as you play.
What Is A Social Casino?
There are several differences between social and real money casinos. These differences are important to understand before you begin playing. For example, players wanting to win real money won't find themselves able to do so at a social casino. In essence, a social casino offers the same casino games and video slots as a real money casino, but there's no actual money involved.
Social casinos can be standalone websites, downloadable apps, or integrated with popular social media websites like Facebook. Rather than gambling with real money, social casinos allow you to bet with coins and virtual credits. These are available free of charge, although some social casinos may allow you to purchase additional credits if you run out.
The top social casino games have the same features as real money casinos – although some facilities such as progressive jackpots may be excluded. If you'd like to play slots for real money instead, here's a breakdown of the best online slots for NJ players.
Are Social Casinos Legal?
Social casino games and social slots are completely legal. In the US, real money online gambling websites are still prohibited in many states. Social casinos, on the other hand, aren't considered to be gambling. As no money is being risked when you play social casino games, these sites are completely legal; the only exception to this is the state of Washington, which has some very strange rules regarding free-to-play casino games.
However, remember that this page covers social casinos operating within the United States. Some countries may have their own rules and regulations surrounding social casinos – especially when it comes to underage players. These may not follow the principles of responsible gambling in the US, so we advise you to be selective with where you spend your time online.
For example, some countries now require social casino players to be over 18. However, as these casinos aren't subject to online gambling regulations, enforcing these checks is difficult. In many countries, a debit or credit card number is sufficient proof of age, which some critics argue is allowing kids to play casino games and slots.
Differences Between Social Casinos & Real Money Casinos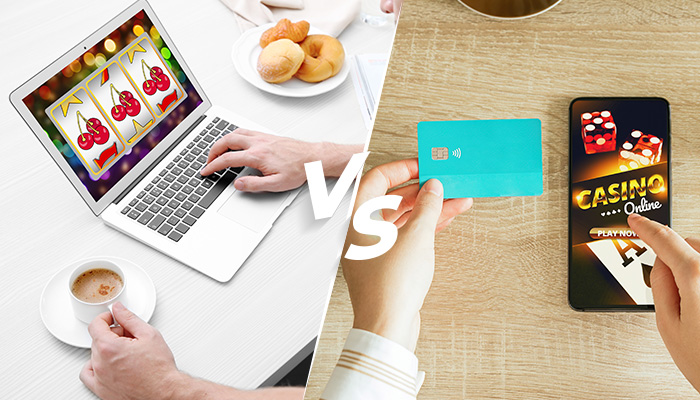 Social casinos and real money casinos are two distinct forms of online entertainment that offer different experiences to players. A social casino is a platform that offers casino-style games, such as slots, blackjack, and roulette, but players do not gamble with real money.
Instead, they use virtual currency, which is usually earned through gameplay or purchased with real money. Social casinos are designed for entertainment purposes only and offer players a way to relax, have fun, and compete with friends.
On the other hand, real money casinos are online platforms that allow players to gamble with actual money. They offer a range of games, including classic casino table games, slots, and video poker.
The main objective of real money casinos is to provide a way for players to win real money through gambling. Players are required to deposit funds into their account before they can start playing, and they can typically withdraw their winnings at any time. Real money casinos are usually regulated by government agencies and are subject to strict rules and regulations to ensure fair play and player protection.
Pros of Social Casinos
Playing at online social casinos offers several advantages to players. Arguably the main advantage is that all social casino games are free to play. You can enjoy all the games without having to spend any real money. This makes them ideal for those wanting to play for fun, or for those who enjoy video slots and casino table games, but who don't want to risk their own cash.
Many of the best social casinos also offer a competitive environment where players can compete with friends and other players from around the world. This can add an extra layer of excitement to the gaming experience, and it also allows you to meet new people and make friends!
Social casinos also tend to boast a wide range of games, including classic casino games such as slots, blackjack, and roulette. New games are released regularly, and this ensures you can nearly always find something new and exciting to play!
Finally, many social casinos are accessible without an internet connection. For example, if you download a social casino app, you can often download the games too – allowing you to enjoy the action regardless of whether you have an active internet connection or not.
Cons of Social Casinos
While playing at social casinos offers several advantages, there are also some cons to consider. The biggest disadvantage of playing at social casinos is that players can't win real money. For many players, this removes the whole point of playing casino games. Following on from this, many players find social casinos lack the same levels of excitement and realism as real money casinos.
When you're not playing with real money, winning doesn't give the same adrenaline rush – and this is often one of the main reasons why real money gamblers simply can't get onboard with social gambling.
While social casinos are free to play, players may need to purchase extra virtual currency to progress in the games or to access certain features. This can add up over time and become quite expensive, and it's become something of a controversial topic. Some online gambling regulators have even taken steps to prevent social casinos from charging players to purchase virtual in-game currencies.
We've summed up the advantages and disadvantages of social casinos below.
| SOCIAL CASINO PROS | SOCIAL CASINO CONS |
| --- | --- |
| Enables you to play casino games for free. | No opportunity to win real money when you play. |
| Not possible to lose any money while gambling. | The thrill of winning can be less than when winning real money. |
| Allows you to chat and make friends with similar interests. | Buying additional credits to play can be expensive. |
| Games are often accessible even when your device is offline. | |
| Wide selection of games usually offered, including many slots. | |
Frequently Asked Questions
Online social casinos have become hugely popular in the last decade – and this popularity has been spurred on largely thanks to social media websites like Facebook. On this page, we've given you an introduction to what social casinos are, and how they work. Below, we're going to answer some additional FAQs.
What's the difference between social and real money casinos?
Social casinos are free to play, while real money casinos require players to deposit funds. Ultimately, the choice between a social casino and a real money casino depends on an individual's personal preferences and gambling goals. If you're looking to win real money, then social casinos aren't going to be a suitable choice for you.
Can you spend money at social casinos?
While you can't wager real money on any social casino games, you can usually buy extra credits, which allows you to continue playing games once your credits have been used. This has caused controversy in some jurisdictions, and some online gambling regulators have even started to clamp down on social casinos offering in-game purchases.
What are the main benefits of social casinos?
There are several benefits to social casinos. Social casinos offer players the opportunity to enjoy casino-style games without the risk of real money gambling. These games allow players to interact with friends and other players, participate in tournaments and win virtual rewards. In addition, social casinos provide an entertaining and social gaming experience and can also act as a great introduction to the world of online gambling for those who are new and inexperienced.
Are there any disadvantages of playing at social casinos?
Social casinos offer great entertainment value – but there are disadvantages to them, too. Firstly, some critics worry that social casinos can cause addiction, leading to excessive spending on virtual coins or chips. Some players may also find the lack of real money payouts reduce the enjoyability of playing. Some social casinos may also use shady tactics, such as making it difficult to win, to force players to buy in-game virtual currency.
How to find the best social casinos?
If you're looking for the best social casinos, it's important to choose a site you're comfortable with. Facebook is a great place to start, as you'll find loads of free-to-play slots and casino games. The App Store and Google Play also offer many social casinos – so it's also worth looking there if you want to find the best social casinos.
https://www.gemdisco.ph/?referral=tt92427
https://www.luckycola.asia/?referral=gg06908